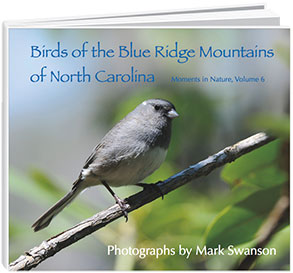 Publication year
: 2017
Format
: Hardcover, 78 pages
Size
: 10 x 8 in.
Product #
: SM-PB013
Price
:
US$80.00
$50.00
+ shipping
Only 1 copy in stock (you may order more copies but delivery will take longer).
Signed by the author/photographer
Please allow 1 to 2 weeks for USPS delivery.






Book description
Birds of the Blue Ridge Mountains of North Carolina features over 90 bird photographs taken by Mark Swanson in western North Carolina from 2008 to 2017. The photos were taken at over a dozen locations in Avery, Buncombe and Watauga counties, including the Blue Ridge Parkway, Grandfather Mountain, and Linville Land Harbor.
The photos capture moments in the lives of dozens of individual birds—67 different resident and migratory species from over two dozen families, including ducks and geese, osprey, hawks, hummingbirds, crows and ravens, chickadees and titmice, sparrows, warblers, finches and more. The images portray a wide range of behaviors such as eating, foraging, flying, hunting, singing, mating, playing, sunning and swimming.
While the book provides an excellent overview of the variety of birds found in the Blue Ridge Mountains of North Carolina, it is not a field guide or complete checklist. Rather, it is a collection of photographic portraits and behavioral observations of selected individuals.
Birds of the Blue Ridge Mountains of North Carolina is the sixth volume in the Moments in Nature photo book series.
A nice gift for a birder or anyone who appreciates birds!