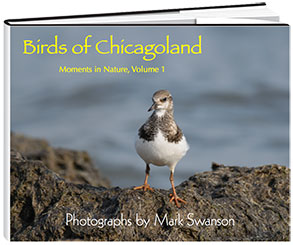 Publication year
: 2017
Format
: Hardcover w/ dust jacket, 94 pages in premium ("lay-flat") binding
Size
: 11.25 x 8.75 in.
Product #
: SM-PB007
Price
:
US$184.00
$76.99
+ shipping
Only 3 left in stock.
Signed by the author/photographer
Usually ships within 3 business days from USA via USPS. Please allow 1 to 2 weeks for delivery.






Book description
Birds of Chicagoland features over 120 of Mark Swanson's best bird photographs taken in the Chicago, Illinois, area from 2004 to 2016. Swanson carefully selected these photos from his archive of over 4,000 Chicagoland bird images.
"Absolutely stunning"
— Evanston RoundTable, June 2017
From the Introduction:
"The photographs capture moments in the lives of dozens of individual birds, including both resident and migratory species. The images portray a range of behaviors including feeding, foraging, flying, hunting, calling, singing, courting, mating, playing, swimming, preening, gathering nesting materials, distracting predators, and even using tools.

The images also allow the reader to appreciate the birds' unique characteristics and individual personalities. For example, included are rare photographs of a Green Heron "bait fishing" (a technique practiced by only the most intelligent individuals) and an action sequence of Ring-billed Gulls engaging in "drop-catch" play.

Several photos document species not often seen in the Chicagoland area, including Kirtland's Warbler, Sage Thrasher, and Barrow's Goldeneye."
The photos were taken at dozens of locations in Cook, Lake, McHenry, and Will counties, including Montrose Point, North Pond Nature Sanctuary, North Park Village Nature Center, The Grove, Rollins Savanna, Illinois Beach State Park, Moraine Hills State Park, and Midewin National Tallgrass Prairie.
Birds of Chicagoland is the first volume in the Moments in Nature photo book series. The books in this series are not field guides. Rather, they are collections of photographic portraits and observations of animal behavior. While the photographs do serve as records of species, more importantly they are documents of specific moments in the active and complex lives of individuals.
A nice gift for a birder or anyone who appreciates birds!

Contents
About the Moments in Nature Series
Introduction
Locations and Technical Information
The Photographs
Index