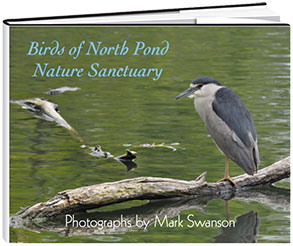 Publication year: 2017
Format: Hardcover w/ dust jacket, 64 pages
Size: 11.25 x 8.75 in.
Product #: SM-PB005
Price: US$115.00 OUT OF PRINT

Book description
Birds of North Pond Nature Sanctuary contains over 70 photographs of birds taken by Mark Swanson at the North Pond Nature Sanctuary, located in Lincoln Park in Chicago, Illinois. The photos provide an excellent overview of the variety of bird species that can be seen at North Pond. Included are rare photographs of a Green Heron using "bait fishing" to lure fish—a fascinating example of tool use among birds.
A nice gift for a Chicago area birder or anyone who appreciates birds!
"Absolutely stunning"
— Evanston RoundTable, June 2017
About North Pond Nature Sanctuary
North Pond was originally constructed in 1884. The Chicago Park District rehabilitated the pond in 1999 with assistance from the Lincoln Park Conservancy and renamed it the North Pond Nature Sanctuary.
The 15-acre sanctuary's native plants provide food, shelter and breeding habitat for local and migrating birds and other animals. Over 220 species of birds have been recorded there. The most visible birds are ducks, geese and herons, but passerines and other birds can be seen in the trees and wetland vegetation at the pond's edge, as well as the surrounding park land.
In 2016 the Lincoln Park Conservancy announced a major fund-raising campaign to restore the pond and revitalize the sanctuary. For more information about the pond and the restoration project, visit the official North Pond Nature Sanctuary web page.

Contents
Ducks:

American Wigeon
Bufflehead
Cinnamon Teal
Common Goldeneye
Hooded Merganser
Mallard
Northern Shoveler
Ring-necked Duck
Wood Duck

Geese:


Canada Goose
Chinese Goose (domestic Swan Goose)
Graylag Goose (domestic)
Greater White-fronted Goose

Herons:


Black-crowned Night-Heron
Great Blue Heron
Green Heron
Least Bittern

Other Birds:

American Coot
American Crow
American Redstart
Caspian Tern
Common Yellowthroat
Cooper's Hawk
Eastern Kingbird
Harris's Sparrow
Hermit Thrush
Northern Waterthrush
Palm Warbler
Red-winged Blackbird
Rose-breasted Grosbeak
Ring-billed Gull
Red-breasted Nuthatch
Rock Pigeon
Sora
Yellow Warbler
Yellow-rumped Warbler