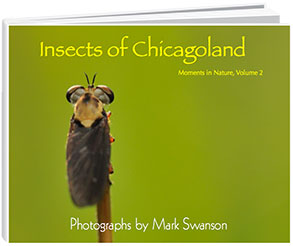 Publication year: 2017
Format: Pocketbook with hardcover, 74 pages
Size: 7.75 x 5.75 in.
Product #: SM-PB008
Price: US$66.00 $32.99 + shipping
Only 1 left in stock.
Signed by the author/photographer
Usually ships within 3 business days from USA via USPS. Please allow 1 to 2 weeks for delivery.






Book description
Insects of Chicagoland features over 80 insect photographs taken by Mark Swanson in the Chicago, Illinois, area from 2002 to 2016.
The photos depict 78 different species in 10 orders within the class Insecta. While the book provides an excellent overview of the variety of insects found in Chicagoland, it is not a field guide or complete checklist. Rather, it is a collection of photographic portraits and behavioral observations of selected individuals.
Through close-up (macro) photography, the images capture moments in the lives of many individual insects. Macro photography can provide views of physical details and behaviors not normally apparent to the casual observer.
The photos were taken at dozens of locations in Cook, DeKalb, DuPage, Lake, McHenry, and Will counties, including Montrose Point, North Pond Nature Sanctuary, North Park Village Nature Center, Bluff Spring Fen Nature Preserve, Emily Oaks Nature Center, Somme Prairie Grove, Heller Nature Center, Middlefork Savanna, Spring Creek Valley Forest Preserve, Illinois Beach State Park, Moraine Hills State Park, and many more.
Insects of Chicagoland is the second volume in the Moments in Nature photo book series.
A nice gift for naturalists of all ages!
"Absolutely stunning"
— Evanston RoundTable, June 2017

Contents
About the Moments in Nature Series
Introduction
Locations and Technical Information
The Photographs

Antlions & Lacewings
Bees, Wasps & Yellowjackets
Beetles
Butterflies, Skippers & Moths
Damselflies & Dragonflies
Flies
Grasshoppers & Kin
Mantids & Walkingsticks
True Bugs & Kin

Index