The Photography of Dick Swanson
About Dick Swanson
Richard C. "Dick" Swanson (1933-2009) was an award-winning American photographer known primarily for the black-and-white photographs he created in Michigan and southeast Florida from the 1940s to the 1990s.
Swanson picked up photography in the mid 1940s as a teenager in Vassar, Michigan. He took photos for his high school while running a commercial photography business, shooting hundreds of photographs for local newspapers and businesses—in the process documenting virtually every aspect of small-town iife. Like the FSA photographers of the 1930s and early 1940s, Swanson understood that a documentary photograph could also have aesthetic value.
After a hiatus to attend college and dental school, and relocation to Southeast Florida in 1961, Swanson resumed taking pictures as a purely artistic endeavor. During the 1970s and 1980s Swanson refined and mastered his craft through intensive darkroom experimentation and improvisational "street" photography, creating an extensive portfolio of images.
Swanson's images have appeared in numerous publications and won awards at many national juried exhibitions. Prints of many of the images are held in the collections of over 20 U.S. museums and other institutions.

Download Dick Swanson's Biography/CV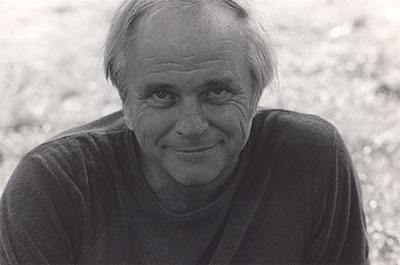 Dick Swanson, ca. 1984.
The Photographs
Dick Swanson often referred to his portfolio of older and newer works as "Second Generation Photographs" because they reflected two eras in America separated by 30 years in the life of the photographer:
First Period (1940s–1950s): Large format (4x5) photo journalism/social documentary photos (primarily from Vassar, Michigan)
View "First Period" Gallery

Second Period (1970s–1990s): SLR (35mm) abstract, darkroom experimentation, "street" and candid photos from various U.S. locales (primarily south Florida, as well as North and South Carolina, Minnesota, Oregon and California).
View "Second Period" Gallery
The older images are unique documents of post-World War II Michigan civic and daily life (and death), thematically similar to the work of Walker Evans and Weegee and created a decade before Robert Frank published The Americans. Here's a quote from a review of the 1986 exhibition New Developments: Contemporary American Photo Work at the Meisel Gallery in New York:
"Among the pictures with more of the old conviction I liked Dick Swanson's 'Memorial Park Dedication' (if this was correctly dated 1950, then it predates the images it at first appears to echo) ..."
— Vicki Goldberg, American Photographer, Oct 1986
Swanson's more recent images are excellent representatives of stylistic trends in mid-to-late 20th century art photography, comparable to the work of his contemporaries Elliott Erwitt, Lee Friedlander and Garry Winogrand (with whom Swanson studied).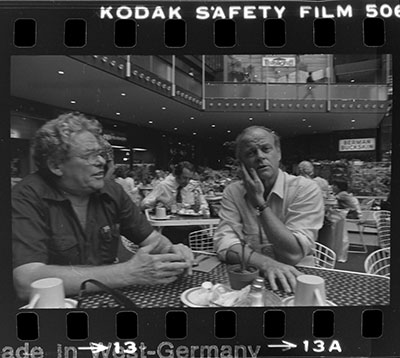 Garry Winogrand and Dick Swanson, St. Paul, Minnesota, 1981.
Fine Art Prints Available for Purchase
We have a limited number of Dick Swanson's original black & white prints (from both Swanson's first and second periods) available for purchase. These are traditional gelatin silver prints Swanson printed himself in his darkroom in the 1970s–1990s using the original negatives. Gelatin silver prints are noticeably higher in quality than digital prints and have greater value as collectible works of fine art. Many are already matted in archival-quality mats. A few are signed by the photographer. You can see previews of many of these images by clicking the thumbnails on the upper right part of this page. For availability and pricing, contact Mark Swanson
The Richard C. "Dick" Swanson Collection at the Bentley
In 2016 the Bentley Historical Library at the University of Michigan (Ann Arbor) agreed to acquire the Richard C. "Dick" Swanson Collection for its archive.

The Bentley has received (or will receive) Dick Swanson's core collection of hundreds of fine art prints, personal papers, and slides and negatives, as well as full copyright ownership. The archive eventually will be accessible online for research purposes. Note: There will be a "limbo" period during which Swanson Media will continue to handle licensing requests until the Bentley has acquired and processed the full collection and is ready to manage such requests.
Under a license agreement with the University, Swanson Media will continue to publish Dick Swanson's images (website, prints and books).
Updated 29 November 2020