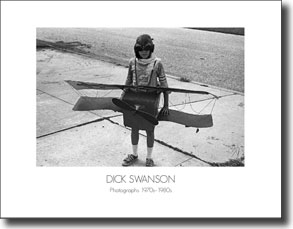 Publication year
: 2010
Format
: Hardcover, 48 pages
Size
: 11.25 x 8.75 in.
Product #
: SM-PB003
Price
:
US$95.00
Out of print
(Individual photo prints are available; see below.)
We might publish a new edition of this book if there is sufficient interest. Contact us to let us know if you're interested and whether you would prefer a regular book or an eBook.

Book description (from the Introduction)
As a teenager in Vassar, Michigan, Dick Swanson bought a large-format camera and started his own commercial photography business. Between 1948 and 1952 he took hundreds of photographs for newspapers and local businesses. He stopped taking pictures to focus on his college education, a career in dentistry and raising a family in Florida.
In the late 1960s Swanson decided to pick up photography again, this time as an artistic endeavor. He purchased a 35mm SLR camera, built his own darkroom and started taking pictures whenever he had free time.
In 1970 Swanson entered his first juried exhibition after resuming photography—and won "Best of Show." In 1972 he attended a workshop led by renowned photographer Ruth Bernhard, who inspired Swanson to refine his craft. His early 1970s photographs generally were abstract, conceptual or whimsical images often created with the assistance of family members or darkroom techniques. The photographs demonstrate a mastery of composition and use of light in addition to a well-developed sense of improvisation.
By the late 1970s Swanson had become interested in the photography of his contemporaries, including Mark Cohen, Bruce Davidson, Elliot Erwitt, Lee Friedlander, Eva Rubinstein and Garry Winogrand, and attended workshops led by the latter two artists.
Swanson quickly expanded his subject matter and approach. Exploring his south Florida environs, he found himself drawn to local fairs and flea markets and their variety of people and activities. The result was a collection of fascinating visual documents of human character, culture and place.
In retrospect, much of the imagery Swanson created in the 1940s and 1950s was part of the social documentary tradition, so his pursuit of contemporary "street photography" in the 1970s and 1980s was a natural extension of an earlier approach to image making. No doubt his early experience, combined with the freedom of movement afforded by an SLR camera, gave him the confidence to capture his later subjects with greater intimacy and improvisation. These qualities characterized most of his 1980s photographs, whether taken at a Florida flea market, along a California street or on a North Carolina family's porch.
During the 1980s Swanson's photographs were accepted into dozens of national juried exhibitions and won several awards. In 1986 his work was featured in the exhibition New Developments: Contemporary American Photo Work at the Meisel Gallery in New York City. Many museums and other institutions now hold his photographs in their permanent collections.
The photographs in this book represent the best of Dick Swanson's work from the 1970s and 1980s.
A perfect gift for anyone interested in 20th-century American photography.

Contents
Thirty-five (35) black & white photographs. (You can preview all the images below.)
Sections:
Introduction
Abstract, Conceptual & Whimsical Images
Candid & Street Photography
Exhibitions, Collections & Publications