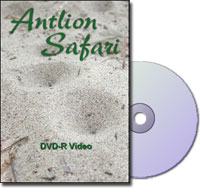 Publication year: 2005
Video format : DVD-R (NTSC)


Total playing time: 1 hr, 26 mins
Product #: SM-DVD002
Price: US$12.00 + shipping
Usually ships within 3 business days from USA via First-Class Mail. Please allow 1 to 2 weeks for delivery.
Buy the Antlion Safari DVD and the Antlion photo book together for $20.00 (a $5 savings):






Video description
This video explores the habitat, behavior, and life cycle of the antlion, an insect that has fascinated people around the world for millennia. The video focuses on the pit-digging variety of antlion ("doodlebug"), its larval form's unique method of capturing prey, and its metamorphosis into an adult. Extraordinary time-lapse sequences and close-up photography provide insight into behavioral details not apparent to the casual observer.
The 15-minute main program is ideal for classroom screening. The longer extra scenes will be of interest to both amateur and professional entomologists. Note: some scenes might be too intense for younger or more sensitive viewers.
An excellent resource for biology teachers. Also makes a nice gift for bug enthusiasts of all ages!
An excerpt from
Antlion Safari
was featured on the US cable television program
Animal Planet Report
in 2006.

Contents
Main Program (15 mins):
Antlion Safari (with Wendy Smith, naturalist at Indiana Dunes State Park)
Antlion Larva (close-ups)
Digging the Pit
Capturing and Eating Prey
Metamorphosis
Extra Scenes (1 hr, 10 mins):
Antlion Larva (extreme close-ups)
Antlion Capturing and Eating an Ant
Antlion Capturing and Eating an Earwig