Photography
The Swanson Media Image Collection
Swanson Media maintains a collection of thousands of images of a variety of subjects, with an emphasis on nature/wildlife and social documentary (including hundreds of "Americana" images dating back to the 1940s). Most of the photographs were made by either Mark Swanson or his late father Richard C. "Dick" Swanson, an award-winning photographer whose work has appeared in numerous publications and juried exhibitions. For information about Dick Swanson's photography, including fine art prints for purchase, see The Photography of Dick Swanson.
You can search the collection by keywords or browse the images by subject using the "lightbox" links below.
Lightboxes
Vassar, Michigan 1948–1952
As a young freelance photographer in Vassar, Michigan, Dick Swanson took hundreds of pictures for local newspapers, businesses, schools and individuals. Now digitally archived, this collection of vintage black & white images captures virtually every aspect of a typical small midwestern U.S. town shortly after World War II.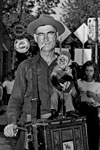 The subjects include everything from school cooks to football players; from power plants to old hotel rooms. Several images document post-war events such as memorial ceremonies and the immigration of European refugees.
Many of the photographs come from Swanson's coverage of Vassar's centennial celebration in 1949. Over several days, as residents donned vintage 19th-century clothing and participated in activities of a bygone era, Swanson created dozens of striking (and often humorous) images in which time and place are ambiguous, and whose subjects appear at once familiar and strange.
The collection, which numbers over 400 images, also includes photographs from other Michigan towns and cities: Gera, Mayville, Millington, Newberry, Richville and Saginaw.
All Subjects
These lightboxes include the contemporary work of both Dick and Mark Swanson, as well as many of the vintage images from the Vassar collection. The lightboxes include over 7,000 different images.
Image Licensing
Most of the images in the collection are available for licensing for editorial or commercial use. To request a license for an image, please complete the License Request Form.
Note: The lightboxes contain only a portion of the collection. We generally display only the "best" images from a technical or aesthetic perspective, or only select shots from an animal action sequence. If you want to see all the available images of a particular subject, or if you are looking for a specific behavioral or anotomical detail, feel free to request a customized lightbox by contacting Mark Swanson
On-Demand Photo Prints
All photographs in the collection are available for purchase as high-quality digital prints suitable for framing. Prints are sold for display use only (home or office). Prints are made on demand by a commercial photo printing service.
Photo prints make great gifts!
For information about digital print pricing, sizes and framing tips, see About Photo Prints.
Photographers' Galleries
These galleries showcase some of the best work by photographers Mark and Dick Swanson:

View
Mark Swanson Gallery: Birds

View
Mark Swanson Gallery: Insects, Spiders and Kin

View
Mark Swanson Gallery: Reptiles and Amphibians

View
Mark Swanson Gallery: Mammals

View
Mark Swanson Gallery: Art and Travel Photography

View
Dick Swanson Gallery 1 (1940s–50s)

View
Dick Swanson Gallery 2 (1970s–80s)
Our Publication Credits
Here are selected photo/video publication credits:
Mark Swanson
Animal Planet Report (Lucky Duck Productions). Antlion video footage used for cable television program broadcast March 29, 2006.
Animal Tool Behavior: The Use and Manufacture of Tools by Animals, 2nd Ed. Benjamin Beck, Robert Shumaker and Kristina Walkup. Baltimore: Johns Hopkins University Press, 2011. Features our photo of a Green Heron bait fishing.
Boreal Centre for Bird Conservation (via Karo Group), Slave Lake, Alberta, Canada. Blackpoll Warbler photo used for interactive kiosk display, 2006.
North American Birds, Vol. 65, No. 2, 2011. Journal of the American Birding Association. Features our photo of an American Tree Sparrow.
Dick Swanson
AKA Magazine (cover), 1970, American Kitefliers Association, Silver City, N.M.
American Photographer, October 1986.
Avery County Journal, August 1984, Newland, N.C.
Dwellings, exhibition catalog, County College of Morris, Randolph, N.J., 1984.
The Finished Print, Aetna Institute exhibition catalog, Hartford, Conn., 1985.
Henley Southeastern Spectrum, exhibition catalog, Winston Square Galleries, Winston-Salem, N.C., 1984.
The Light Factory, show poster, Charlotte, N.C., 1982.
Listener Magazine (cover), April 1985, West Palm Beach, Fla.
Miami News, March 11, 1985.
Midway Review, "Little Sister Awards" issue, August 1984, Chicago, lll.
Photo Metro Magazine, June/July 1984, San Francisco, Calif.
Photo Review, Fall 1985.
Press, Publicity, Paparazzi, exhibition catalog, North Miami Art Center, Fla., 1985.
Tropic Magazine, The Miami Herald, March 31, 1985.
U.S. Biennial II, exhibition catalog, University of Oklahoma, Norman, Okla., 1984.
He Belongs to the Ages: The Statues of Abraham Lincoln. Donald C Durman. Ann Arbor, Michigan: Edwards Brothers, 1951.